Along with our new staff comes the launch of our new website! We have recently been making changes to our website to accommodate for the ever-changing world of the internet. If you have visited our website in the past week or so you may have noticed some changes we have made to the website. Below are just some of the changes we have made so far to COAutographs.com!
Navigate With Ease!
With our new website, we made sure it was amazingly easy to navigate with each and every autographed memorabilia categorized.
At the top of our website, you will see the links to our Celebrity Autographs which are categorized by Actors, Actresses, Models, and Musicians. Our Signed Memorabilia category will consist of our unique autographed items like albums, movie props, musical instruments, and much, much, more. In our Collectibles category, you will find unsigned collectibles like comic books, posters, and one-of-a-kind items. Along with our unsigned collectibles, we also sell unsigned celebrity photos, which can be purchased here.
[/half] [half_last]
Can't Find What You're Looking For?
With our new
Site Map
 it's so easy to find exactly what you're looking for! We have made sure links to every part of our website is on this page so no one gets lost.
Whether you're looking for an autograph, a gift idea, or need more information on shipping or our policies, it's all here. Our new site map is designed to help everyone, so no one ever gets lost. Should you still need help, we're always glad to help! Just contact us, and we will quickly see what we can do to assist you.
Larger Images!
Now that every product on our website has larger images, you can see what you're buying! Just click on the product's image, and you'll get the full-sized image.
If your computer screen is 20" or smaller, you may notice the expand button on the upper left-hand side of the image which will mean the image is larger than what you currently see.
View Every Detail!
If the larger images aren't enough, then zoom in and view every detail! With the new zoom feature on our products page, you can view every detail of our autographed memorabilia by simply mousing over the image.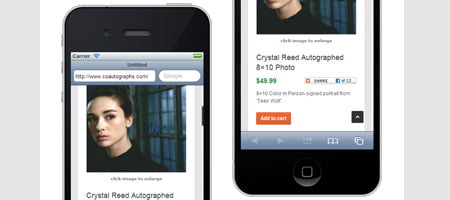 Shop On Your Mobile Phone!
Shopping on your cell phone has never been so easy with COAutographs' mobile website! We live in a mobile world now, and we know that here at COAutographs. Our new website is mobile-friendly and can be easily browsed through using your iPhone, android, or blackberry mobile phone. Now you don't have to worry about missing out on another deal!
Sharing is Caring!
With the new share button on our website, you can choose from over 300 social media websites to share our website and autographed memorabilia on!
Quick Message from the co-founder and owner of COAutographs:
I sincerely apologize to those of you who have been trying to get a hold of us regarding sales and website issues and have not gotten a response back. Due to the recent sale of the company our sales department and website was shut down. Please understand this outage and lack of support is not the norm for us and does not reflect how we do business in any way. I guarantee we are still the trusted company all our loyal customers know us to be, and I will make it up to those affected by this. If you have any questions regarding the sale of COAutographs or our website, please do not hesitate to email us and I will make sure you hear back from us in a timelier manner.

Always,
Justin Paludipan
We are moving forward and are ready for the New Year! We expect a lot of great changes and hope all of you are ready! We at COAutographs are excited about our new website, and we hope you all are too! We are always looking for ways to improve the way we do business and are always trying to make things easier for our customers, so if you see something on our website that we may be missing, please contact us as we'd love to hear from you!
Please note some customers may not be able to access their accounts due to our new website. We apologize in advance for all the trouble this may cause you, but we are here for you. Please contact us, and we will help you regain access to your account.
Got to get back to work, so until next time, take care, and I will write to you all soon! :)
– MS